Supported Independent Living
Find a place to call home with Sunnyfield.
Sharon, Kim, Nicole and Renee recently settled into their new home that has been designed to suit their needs. Located on the Central Coast, they are within walking distance of shops, cafes and a short drive to the beach.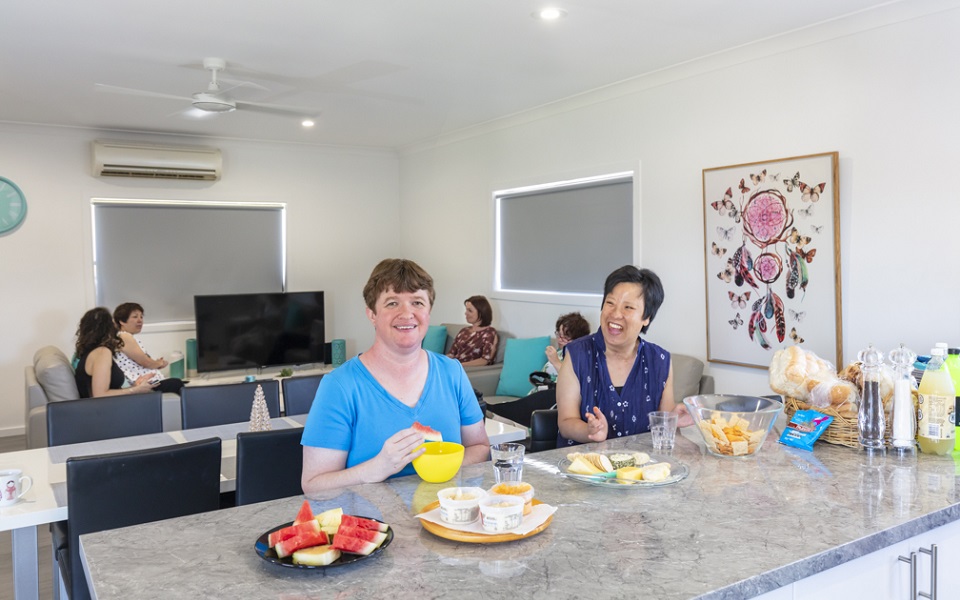 Sunnyfield's Shared Living experts are available to support people with intellectual disability and their families with accommodation planning, NDIS Shared Independent Living (SIL) funding, navigating through the NDIS and developing a personalised support plan.
At Sunnyfield we understand that everyone has different lifestyles and support needs, we will work in partnership with you to provide a range of tailored accommodation solutions throughout NSW.
Click the arrow to expand the content
Can I use my NDIS funding to access these supports?
To access our shared independent living services, you must be an NDIS participant and have approval for funding in the following area.
Assistance in Shared Living Arrangements – Supported Independent Living (Core Supports)
Sunnyfield can provide
Assistance with accommodation planning
A skilled team member to assist you in navigating through the NDIS
An individualised plan to support your goals and aspirations
Assistance with daily personal supports
Sunnyfield supports people with disability to
Take part in choosing who you live with
Live independently
Learn daily tasks in the home such as cooking, shopping and safety in the home
Get out and about in their local community
Where are these services available?
Sunnyfield is now taking expressions of interest for the following NSW locations, please fill in the online form below and one of our team members will contact with you within two business days.
Western Sydney
Northern Sydney
Central Coast
Northern Beaches
Enquire about Shared Independent Living
If you have future accommodation goals and would like to find out more about Shared Independent Living, start the conversation today and contact our friendly team by calling 1300 588 688 or filling in the online form.