Individual Supports
Sunnyfield can assist you to design a personalised plan to support you to achieve your personal goals and identify what supports you may need to get there.
Meet Andrew
A budding craftsman with a knack for turning trash into treasure. Together with his Support Worker Jason, Andrew's been developing practical woodworking skills, transforming old pallets into new furniture.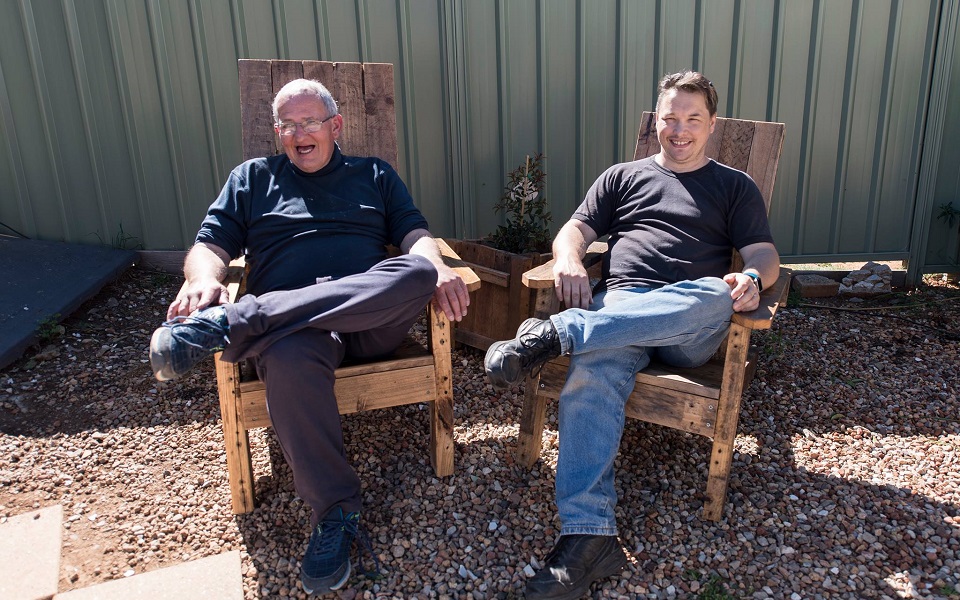 Andrew (left), Jason and chairs they made.
Sunnyfield's individual support services offer a range of active support options so you can try new things, learn additional skills, and get involved in your community. Depending on what you want to do, that active support might be provided at home or in the community
Click the arrow to expand the content
Can I use my NDIS funding to access these supports?
To access our individualised support services, you must be an NDIS participant and have approval for funding in at least one of the following areas.
Assistance with Daily Life (Core Supports)
Assistance with Social and Community Participation (Core Supports)
Increased Social and Community Participation (Capacity Building)
Improved Daily Living Skills (Capacity Building)
Sunnyfield can provide
Daily activity programs that support your choices
Access to outings in local parks, art galleries and museums
Going swimming to learn water safety skills and improve your well-being
Learning to cook foods that you enjoy to increase your independence
Support in your home for personal and self-care needs
Training to learn new skills such as budgeting, literacy and travel
Support with new activities such as shopping, cooking and safety in the home
Assistance with daily tasks, jobs inside the home, gardening and maintenance
Contact Sunnyfield about Individualised Supports
Discover more about Sunnyfield